Systemline 7 multi-room audio system
S7 has been designed to offer the best possible home music and TV experience while discretely complementing the design of your home.
Why choose Systemline 7?
Play music in up to 24 fully independent music zones (including outdoors)
Support for hi-res music storage and reproduction using S7 NetLink (up to 4 x CD resolution)
Stream on-demand music services from Deezer, Tidal & Qobuz etc
Stream radio services from BBC iPlayer (including seven-day catch-up service), TuneIn & Shoutcast
Digital music storage of up to 2TB including hi-res music files (24-bit/192kHz flac)
Integration of whole house audio with a surround sound AV Receiver, simply use the app
One button selection of radio using in wall keypads
Fully customisable app optimised for all sizes of iPad and iPhones
Open integration with third party lighting and control systems including Crestron, Control 4, RTI, Fibaro and Lutron
Great features of Systemline 7
Parental app control
Children can also enjoy S7 but you may want to restrict the control and volume in their room. With S7 it is possible to set a maximum volume for any room, and also restrict any iPad Touch, iPhone or iPad from controlling specific rooms. This feature is password protected so Children cannot 'accidently' turn on the master bedroom.
Use familiar remote controls
We have designed S7 to work in harmony with the things you love to use, making it simple to operate. TV sound from any room can be played through S7 by using a Sky, Virgin Media or Humax remote control. Simply pick up the remote, turn on the TV, select the channel and manage the S7 from just one remote control.
TV sound is automatic
When the TV is connected to S7, simply turn on the TV and the sound comes through the S7's connected speakers. It will sound far superior to your TV speakers and can be completely automatic - most TV models are compatible with our auto-switching method.
Integrate audio with home control
We have designed S7 to work in harmony with other systems you may have in the home such as lighting control or whole house automation. Our installers have all the tools and pre-written software modules so that controls in your home can operate lighting, curtains, temperature and music from one control panel.
Personal listening and streaming to AirPlay speakers
There is an in-app purchase for the NetMusic app which can convert the device in your hand in to a player as well as a controller. This means that you can play your S7 music through your mobile device. Just plug in a pair of headphones and enjoy your music without disturbing anyone. A further upgrade feature is you can stream content from your mobile device straight to any AirPlay-enabled speakers. This is ideal for portable use, or in rooms which have not been wired for S7.
Home cinema or surround sound zone
The S7 NetLink is a perfect product for allowing you to enjoy the music and radio in a room using a surround sound AV Receiver. When fitted, simply select the music or radio of your choice using the S7 app, sit back, relax and let NetLink take care of all the switching and volume.
Enjoy high-resolution music
Hi-res music formats can offer up to 4x CD resolution. S7 is perfectly equipped to support hi-res music both in terms of storage and playback.
Sub-zone feature - ideal for open plan living
There will be times when you don't want different sounds in adjacent rooms – for example in a kitchen and open plan dining or family room. With the S7 sub-zone feature, you can share the sound playing in the kitchen whilst in the dining or family area, including any locally connected TV. This makes use of a keypad called the KPS3 which is fitted (in this example) in the dining/family area and provides basic control of the room, in the form of on/off and independent volume control.
Sleep and alarm
You can set an alarm in any room for any day of the week to turn onto the music or radio of your choice. We also give you a separate alarm turn on volume so that you are gently woken up in the morning. The sleep function allows you to set some music and then automatically switch off after a set time, especially good for playing children's stories at night which turn off after 30 minutes.
Great features of Systemline 7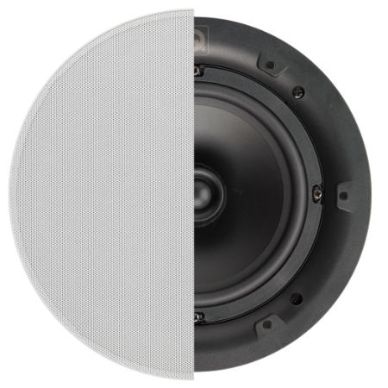 Professional 6.5" ceiling speakers
The Q Acoustics Professional 6.5" in-ceiling single stereo speaker features the latest speaker technology so you can enjoy great sound throughout the entire home and with minimal installation. It's moisture-proof design also means you can install the speakers in the bathroom. Now you can listen to the same music in many rooms, where before it was impossible due to the impractical nature of having the speakers dotted around in each room.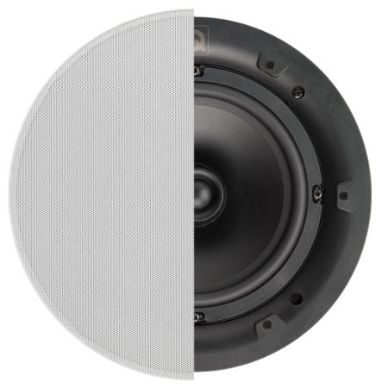 Performance 6.5" ceiling speakers
The advanced 'Nano particle' technology, incorporated into the cone material of the bass /midrange drive units of Q Install's 'Performance' series loudspeakers, combined with numerous other enhancements, delivers a clear and detailed sonic performance. Now you can listen to the same music in many rooms, overcoming the impracticality of placing conventional, free standing speakers in every room.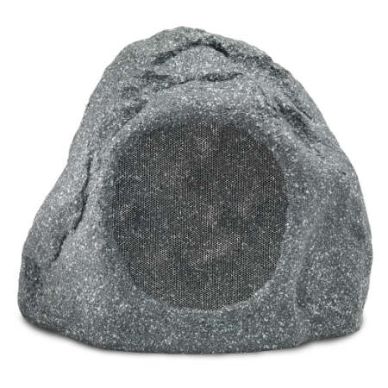 On-ground rock speakers
The Qi65LW is the perfect speaker for those who want to have music in an outdoor landscaped environment. Finished in a granite effect texture and incorporating a wide range 6.5" woofer and 1" tweeter, the Qi65LW visually blends into its environment when positioned within outdoor areas such as bordered patios or alpine gardens.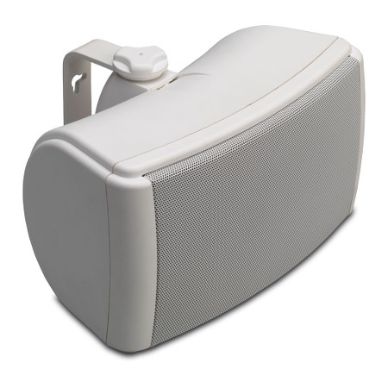 Outdoor weatherproof speaker
Featuring a tough UV resistant ABS enclosure and aluminium speaker grille, the Qi45 and Qi65EW in black and white finishes, are designed to provide many years of trouble-free service whatever the weather. Its versatile mounting bracket make it both easy to install and the perfect solution for providing music in many applications, including outdoor dining and restaurant areas as well as indoor public spaces and conference facilities.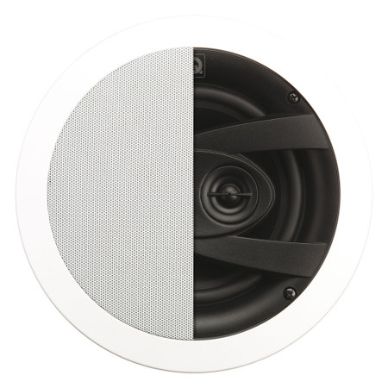 Wet room speakers
These speakers can withstand the harshest of elements so you can install them in your bathroom and wet room and enjoy stereo sound.
Wireless control with the NetMusic app
A simple starting point
We recognise that not everybody is completely comfortable with navigating music using an iPad or iPhone, so we have created what we call the simple home page. This provides instant 'one touch' selection of any stored 'Favourites' which could be radio stations, stored playlists, online playlists, or combinations of both. It really could not be simpler!
Unleashing the power of the app
But we predict that it won't be long before you will be keen to explore the world of music using our stunning S7 NetMusic app. Just press the Systemline logo button and you're ready to go.
The world really is your oyster in terms of the choice of music available. Your own digital music collection is easily navigable by albums, artists or genre etc and access to on-demand music streaming services* guarantees pretty much unlimited choice. With the ease of navigation that only a fully integrated app can provide.
Playlists are created on-the-fly and can be readily edited and saved as a 'Favourite'.
And this is just the beginning. The S7 NetMusic is app for everyone.
Each iDevice can be used in either horizontal or vertical orientation.
*These are normally premium services and are subject to monthly fees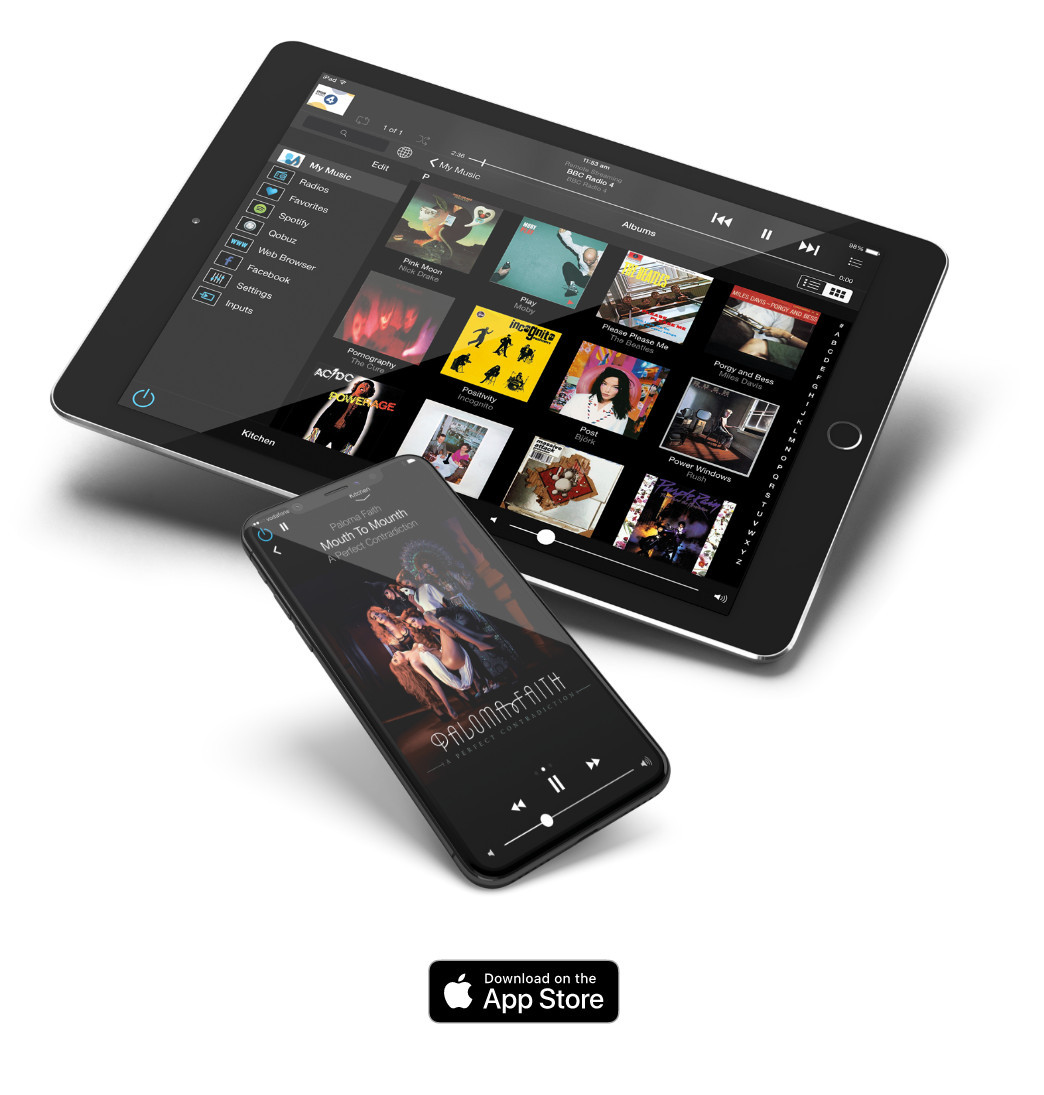 Wireless control with the NetMusic app
The simple starting point
In the age of wireless control, it is easy to overlook the massive benefits of an in-wall hard button keypad. The two major advantages are that unlike a mobile device, they are always accessible. Furthermore, any required action is both simple and instant. No need to find your mobile device, enter the passcode and fire up the app. This is particularly useful in locations such as bedrooms and kitchens where there is a desire to avoid clutter and there is the need to be able to quickly switch something 'on' or 'off or change the volume.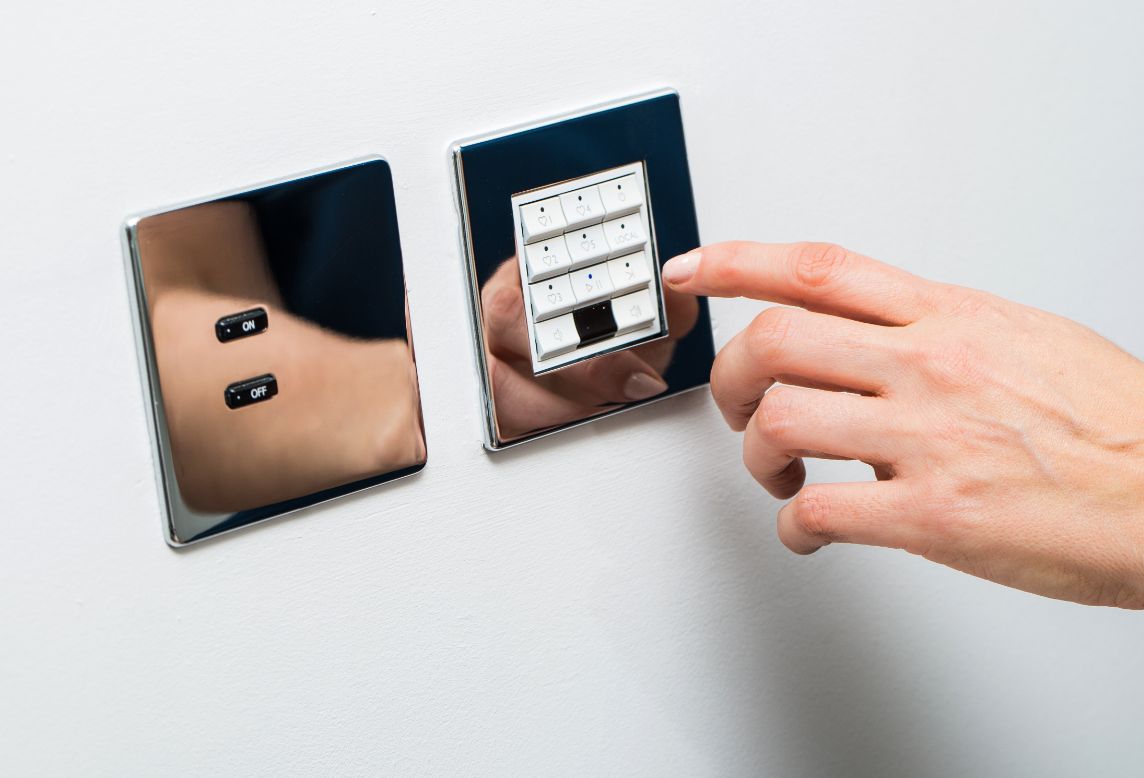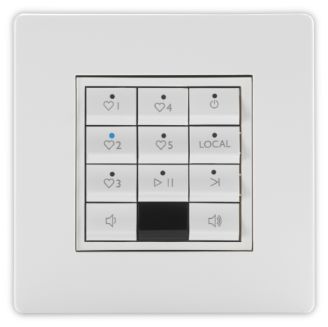 'One touch' control KPS11 Keypad
The KPS11 hard button keypad is the most convenient way to quickly and easily control your S7 system. Simply walk into a room and press a single key to listen to your favourite radio station or music playlist. You can also pause and skip tracks as well as controlling the room volume.
Home cinema zone
A lot of houses now have a surround sound home cinema system in the living room, or even in a dedicated room. The S7 NetLink provides the homeowner enjoyment of all the music and radio services from the S7 server using the AV Receiver amplifier and speakers.
Uniquely for S7, the NetAmp is able to control the AV Receiver, switching it on, selecting the right source and controlling the volume, leaving the user to enjoy the S7 app in the same was as every other zone in the house.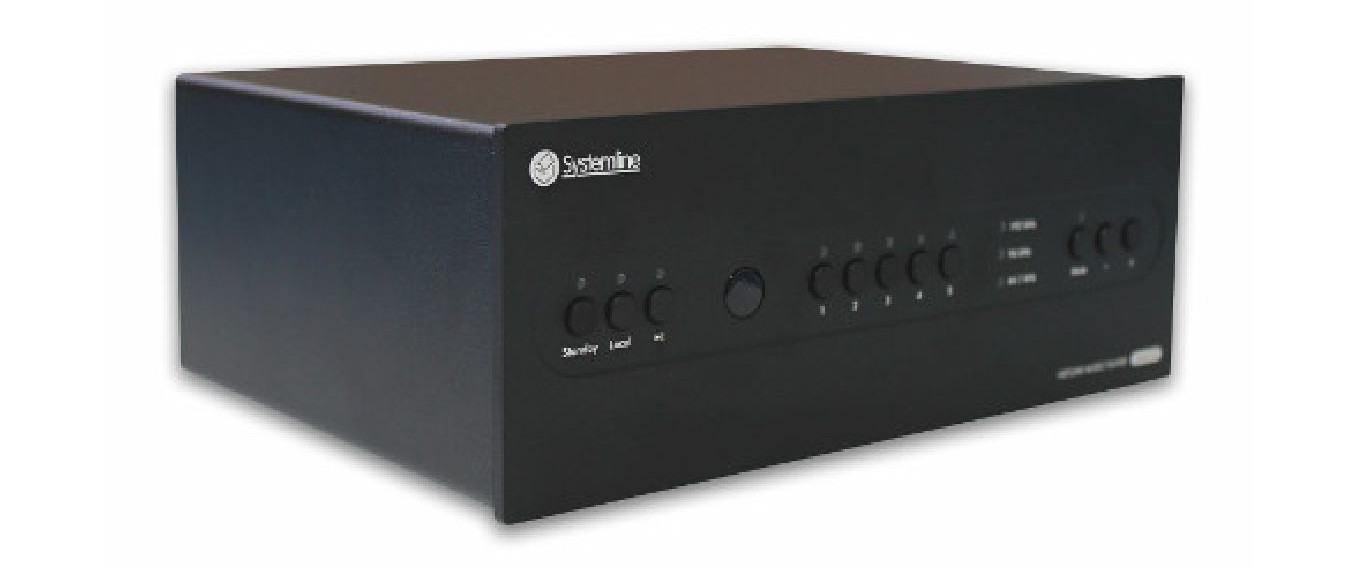 TV / Local audio integration
A key feature of S7 is the ability to connect the audio output of a TV in any room in the home and seamlessly switch between music and TV sound, thus eliminating the need for intrusive soundbars.
The Local Input Module (LIM)
The LIM is designed to auto switch the Systemline system on when it detects a digital audio signal from compatible TV's*. This means that the action of switching on a TV will automatically feed the TV sound through the Systemline Hi-Fi speaker system. Likewise, it will switch off when the TV is switched off.
The LIM will even automatically switch from Systemline music to TV sound, and vice-versa once the TV is switched off.
A further bonus, is that both Sky & Virgin remotes can be used to directly control the volume & on/standby functions of the S7 system, so there is no need to use any other handset or mobile device when opperating the TV and using S7 as an 'invisible' soundbar.
This makes the whole experience as seamless and as simple as can be.
In instances where there is no requirement for TV sound connectivity, the LIM can be used to directly connect a local audio device such as an iPod/MP3 player.

S7 Connectivity
The base of S7 shows both the NetServer and NetAmp connected directly to the wireless router, with wireless control of both devices via a mobile device running iOS (minimum requirement iOS 7).
Behind the scenes
The heart of Systemline S7 is the NetServer and one or more NetAmps, but don't worry, you won't see them, because they will be neatly hidden away in a purpose designed enclosure.
The NetServer
Digital music storage and access to internet services
The NetServer is the hub for all of your stored music files (up to 24-bit/192kHz). It boasts a capacity of more than one million tracks and is the gateway for all of the internet services.
The NetAmp
Compact hi-fi amplification and zone control
The NetAmp connects to the NetServer via a direct digital connection with provision for two further inputs, providing stereo hi-fi amplification and control for each room. Each NetAmp services two rooms and Systemline S7 supports fully independent choice of music in up to 24 different rooms.
Higher power, higher performance purpose designed Systemline amplifiers can be added to the system to provide a superior sound performance in selected rooms.