Spotify have made a decision to remove support from some manufactures method of accessing and playing Spotify, for which Systemline will be affected. Further information can be found on this website link:
https://support.spotify.com/us/listen_everywhere/on_speaker/why-cant-i-use-the-spotify-app-on-my-speaker/
Note: Systemline S7 is built on an open source platform called Squeezebox and is therefore impacted by the withdrawal of service from Logitech/Squeezebox devices.
Whereas previously this platform was officially supported by Spotify
https://support.spotify.com/us/listen_everywhere/on_speaker/logitech/
Regrettably, we have received very little notice of this change and its due to come in to effect on 20th July 2017.
We are currently in discussion with Spotify and we are hopeful that the matter can be completely resolved. Unfortunately we are unable to place any timescale on this, because the matter is not entirely under our control. We will keep you informed of progress as soon as we have more information
Systemline 7 has been designed with flexibility in mind, so there are number of options which will allow you to continue enjoying your S7 system with music on demand services.

1.0 Switching to Deezer
We recommend that you switch from Spotify to Deezer, so that you can continue to enjoy music on demand services selected directly from within the Systemline 7 App. Deezer offers the same subscription plans, and an even larger music library so we are confident that you will enjoy Deezer with your installed S7 system. Furthermore, we are working very closely with Deezer and are about to release a completely updated service which includes some vey useful new features.
Switching to Deezer is very easy; there is even a free and very straightforward method to import your playlists from Spotify, so you will not lose anything.
Create a new Deezer account at http://www.deezer.com
Import your Spotify playlists using http://spotizr.com/
You can import all playlists in one action using the Sync button in Spotizr
You can call Systemline on 01483 545611 for help in adding Deezer to your S7 system, we will also check all your system is up to date.
Once you are up and running with Deezer and your Systemline 7 system, you will be able to browse and search music in a very similar way to Spotify. All of the features that you are familiar with including grouping zones, creating playlist etc remain the same.
Deezer offer a 30 day free trail http://www.deezer.com/offers/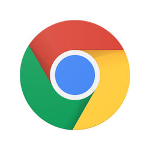 2.0 Retaining Spotify service using Chromecast Audio
Spotify's own advice to their customers effected in this way is to buy a Google Chromecast Audio device to plug in to your existing system This a small round device which connects to your WIFI and presents an audio output which can plug into the S7 Netamp. Spotify can be played through a Chromecast audio module by selecting it as a 'device' in the Spotify app.
http://www.google.com/intl/en_uk/chromecast/audio/explore/?gclid=CNDD95fKiNUCFcajGwodBZkOUA&gclsrc=ds&dclid=CJSfipjKiNUCFcET0wodgmYL4g
The Netamp has two audio inputs available, in addition to the S7 Server, located on the front of the Netamp. The yellow jack cable supplied with the Chromecast Audio Module can be plugged directly into the first Netamp. If you have more than one Netamp, you can use a jack to jack cable to connect the audio output from one Netamp to the input of the next as shown below.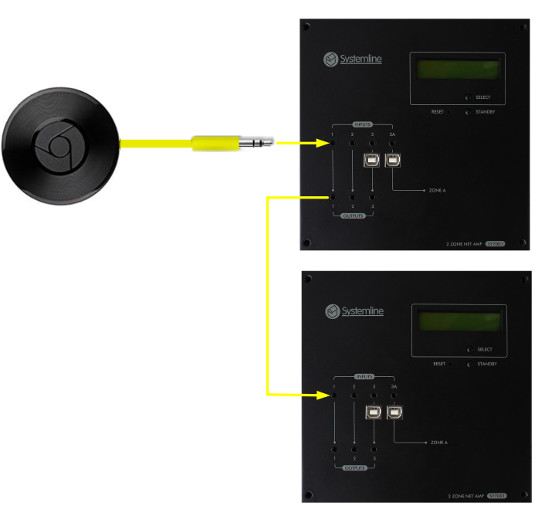 You can purchase a qualilty jack to jack audio cable from QED here:
http://www.qed.co.uk/audio_interconnects/jack_to_jack/qed_profile_jack2jack_cable.html
Configuring the ChromeCast Audio

It is very simple to configure the Chromecast Audio for WIFI and renaming it. The simplest way is to use the Google Home App on iOS or Android and follow the instructions to discover it and set WIFI name and password.

Using Spotify with Chromecast Audio and S7

Firstly, select the Chromecast input using the S7 App, you will find this in 'inputs' as shown below. Here we have relabelled Source Input 1 to 'Chromecast' but it is not necessary to make it work. If you would like help to do this or if your source button is missing then you can contact Systemline support for help on this number 014830545611

Now select the native Spotify App on your mobile device, this can be iOS, Andriod or even the PC or MAC Spotify App. When you have selected your music choice, look for the connected devices available and select Chromecast. Once connected and playing the Spotify App volume control becomes the master, with individual zone volume control via the S7 App

  

To make things even simpler, you can move the 'Chromecast' input button directly to the main menu by editing the menu structure. You will then see 'Chromecast' as a directly selectable input on the left:
Netamp
NetConnect Available Now
NetServer
MiniNetServer
Netlink
DigiLink
Local Input Module
KPS 11
KPS 3
8" iPad Mount
4" iPod Touch Mount
Standard 4 zone cabinet
NetPower Amplifier
Netamp 19" Rack Adaptor
10 Port USB Hub
Make Enquiry
If you're interested in purchasing any of our products multi room audio systems, or have any questions please contact us below.
Address
Systemline
Units 7 & 8,
Stortford Hall Industrial Park,
Dunmow Road, Bishops Stortford,
Hertfordshire, United Kingdom,
CM23 5GZ